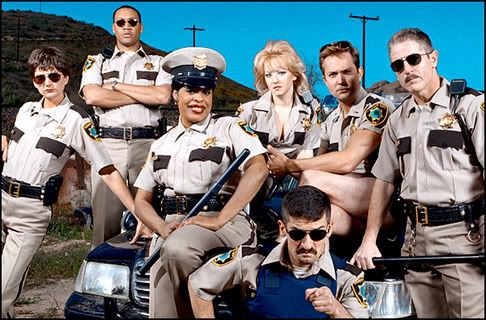 © FauxNews October 17, 2008
Sparks Nevada -Assembly District 24 candidate Dr. John Gwaltney has reportedly joined the cast of the famous crimefighter team on Reno 911! Although it is not clear if the doctor intends to drop out of his race for the Legislature, it is apparent that the doctor has been spending considerable time honing his crime-fighting skills, and solving Reno's most notorious murder in recent memory, that of college student Brianna Denison.

In recent mailer, Gwaltney showed that it was, in fact, his opponent Freshman Assemblyman of the Year David Bobzien who committed the atrocious murder in January.

Executive Producer for Reno 911! David Cooper may have said, "The Doctor is exactly the kind of creative personality that makes our show so successful . His obvious ability to create something, out of thin air is very important in what we do on the show, and he will certainly be a major player this season".

Cast member Paul Reubens allegedly said "Gwaltney has the gift. Improvisation and Timing is critical in both Politics and Acting/Crime-Fighting. When we saw Gwaltney's mailer proving that his otherwise incredibly popular opponent was in fact a rapist and a murderer, we wanted to sign him on right away. You don't see talent like that everyday. It's clearly a gift from God."

Calls to Dr. Gwaltney have remained unanswered, as we are sure the doctor is quite busy packing his bags in preparation for his new assignment as a fake TV crimefighter on a comedy show.